GREETINGS COUSINS SEARCHING GENEALOGY CIVIL RECORDS ITALIAN WORDS ABRUZZO SCANNO to NYC BASILICATA LANGUAGE CULTURE LITERATURE MUSIC FOOD GIARDINO SEMENTI COSE


Italian Civil Records For Genealogy Research
Scroll down for links that will help you get your Italian ancestor's birth, death, marriage, and military records
An example of an Atti di Matrimonio from the Stato Civile
Click to enlarge the picture

Stato di Famiglia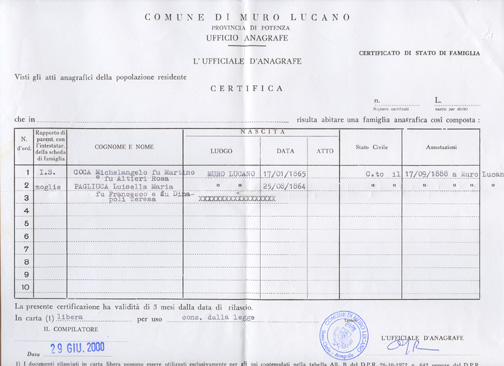 Archivo di Stato addresses
Civil Records of selected Italian comune
Gli Archivi di Stato
How to Obtain Birth, Marriage, & Death Certificates in Italy
Italian Birth Records - Examples
Researching Catholic Church Records in Italy
Write a letter to Italy in Italian & English using these resources.

US Civil Records
A US birth certificate that emphasizes a few errors that may be found in "official" family records. Please note that this was a delayed birth certificate - filed in the late 1940's, well after the actual birth. Also notable is the fact that a municipal official did not create this misinformation - a family member unwittingly made these errors.
1. Both of the parents names are misspelled.
Michael Coco in the US was Michelangelo Coca in Italy.
Luisa Pagluca in the US was Maria Luisella Pagliuca in Italy.

2. The town name is misspelled.
Murlugano is Muro Lucano in Italy.

3. Michelangelo was probably not a farmer.
On other US records he is listed as a former shoemaker. In actuality he was probably a stone mason. Here in Chicago he was a guard at Cook County Jail.


Social Security Death Index
U.S. Vital Records Information
Vitalchek - Order official US records
copyright © 2003 Laura Lancione - all rights reserved