GREETINGS COUSINS SEARCHING GENEALOGY CIVIL RECORDS ITALIAN WORDS ABRUZZO SCANNO to NYC BASILICATA LANGUAGE CULTURE LITERATURE MUSIC FOOD GIARDINO SEMENTI COSE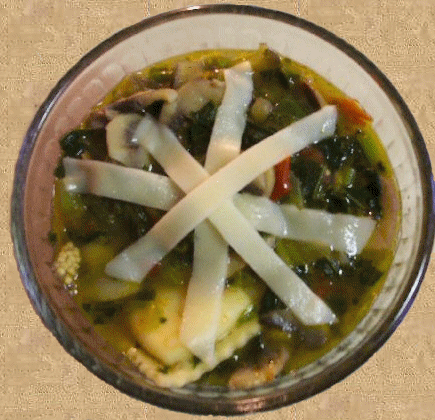 Wild Cardo soup

WOW! Beautiful Marzipan


Stuffed Portabella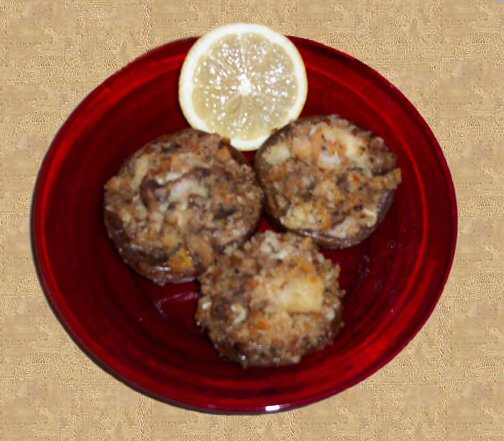 6 portabella mushrooms 3-4"
Olive oil
2 fork smashed anchovies & the oil from the can
Breading Mixture:
½ C barely crushed bread crumbs (substitute chopped zucchini)
2 T. freshly grated aged provolone or parmesan
1 crushed clove garlic
¼ t. basil
Dried red pepper - to taste
Juice of 1/2 lemon
Wipe mushrooms clean. Remove and dice stems. Set caps aside. Sauté diced stems in olive oil until tender. Add fork mashed anchovies to stems in pan. (To taste - I prefer the stronger flavor of Maroc anchovies. I toss in a whole can and the oil - but it's pretty fishy. For persnickety youngsters, two with the oil should be more than enough).
Mix breading mixture in the pan until warmed, about 3 minutes. Remove from heat and stuff into caps. Set stuffed mushrooms into the (newly) oiled fry pan. Cover & sauté gently 15 - 20 minutes until the caps are tender. Generously drizzle freshly squeezed lemon juice over the tops. Adding the lemon at the end of cooking preserves the vitamin C. The local jeweler Glorioso confided that his Nonna used to hide a piece of dried parmesan in the bottom of a stuffed carciofe. It would be a nice treat in these also, kind of like when our Nonna used to hide a raisin or two in the meatballs...


Pollo con Mele e Cipolle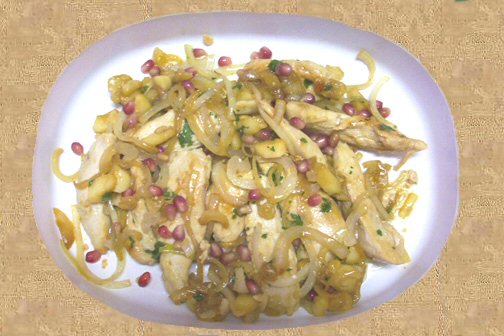 See Kyle Phillips - Pollo con Mele e Cipolle. Our recipe has just a few minor differences. We use chicken breasts instead of cosce / drumsticks, olive oil instead of butter, & omit the wine and mustard while increasing the broth. (My youngsters will only have wine over peaches) We added pomegranate seeds & fresh Italian parsley (I'm a painter) right before serving. Click on the picture for a close-up.


Marzapane Rustico
Grind 2 cups of almonds (blanched if you want fine light-colored marzipan. See How To Blanch Almonds) in a food processor or between layers of waxed paper with a sturdy mallet. We use the whole almond and they have a brown tint from the "skin". When finely ground, place in a bowl. Mix in 2 cups granulated sugar (powdered for fine marzipan), 1/3 cup water, 1/4 teaspoon vanilla, and a drop of amaretto oil. Blend until completely mixed. Turn onto a board or flat surface covered with powdered sugar and knead well. (Can be wrapped in wax paper and refrigerated until later).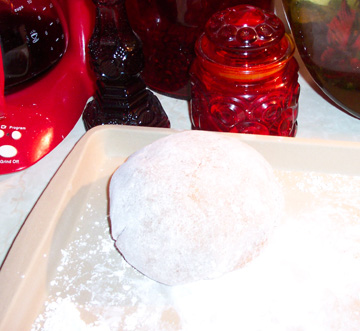 Dust your work surface and hands with powdered sugar (or cornstarch) and pinch off a small piece of marzipan dough. Knead and shape into fruits, vegetables, or nuts with your hands. Sculpt details with a small knife or skewer. That is a carciofo on the right.... and a fico on the left.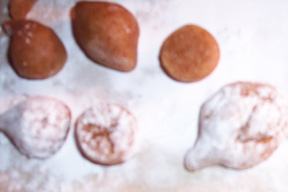 With a brand new clean paintbrush, food coloring, & water you can paint on a base coat of pastel colors. Let dry overnight before adding more layers of color and details. My children couldn't wait with the first few. Here they are, deeply colored. You can see they tried a pomegranate also...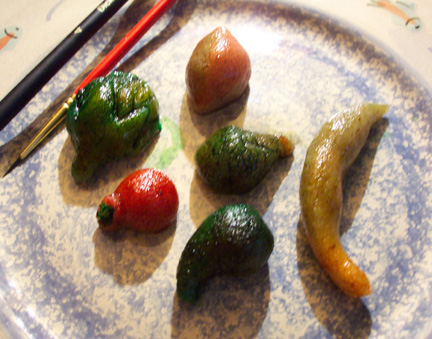 After they dry, you can add more details such as fine lines, seeds, or even give them a fuzzy appearance by rubbing powdered sugar over them with a dry brush.


Cugino, this is for you


To blanch almonds, pour boiling water over dried almonds in a heat-proof bowl. Let them soak in the warm water for 4 minutes until the skin is smooth and loosens easily. Spoon out a few at a time onto a clean towel and gently pinch off the skin with your fingers. Dry thoroughly on the clean towel or in a single layer on a baking sheet. May be gently roasted on low heat (about 200 degrees - 10 minutes) in the oven.